I'm excited to share a brand new video with you today. This video walks you through the steps I took to decorate the cover of a Thanksgiving Journal with some of the amazing products in our 2014 Holiday Catalog. Grab some popcorn (or coffee, depending on the time of day), and let's watch this exciting video together. Then, come back and we'll chat about the elements of the video:
What did you think? It's a great way to show how products can be used differently than they are originally intended, don't you think?
The Newborn King. The super-cool trees that surround the Nativity in The Newborn King are transformed to a Fall landscape in this project. I embossed them and snipped them and then about fell out of my chair (not literally but almost literally) when I realized how perfectly they align above the curves of the Thankful script.
Thankful For. This stamped image includes lines that can be filled in – a way to journal the items you are thankful for. Because my journal serves that purpose, I blocked out the line and only used the beautiful words.
Holiday Home Framelits. The house-to-arrow idea was shown in a recent Stampin' Success magazine, but I'm happy to share it with you here. What a wonderful way to "get more" from these framelits.
Decorative Wrapping Paper. It's not just for gift-giving. This wrapping paper coordinates wonderfully with the kraft paper to add a little design to the backdrop of this journal.
Stamp Sets: The Newborn King, I'm Thankful For Papers: Kraft Cardstock, Festive Designer Kraft Paper Rolls, Chocolate Chip, Crushed Curry, Pear Pizzazz Accessories: White Stampin' Emboss Powder, Holiday Home Framelits, Bone Folder, Project Life Corner Rounder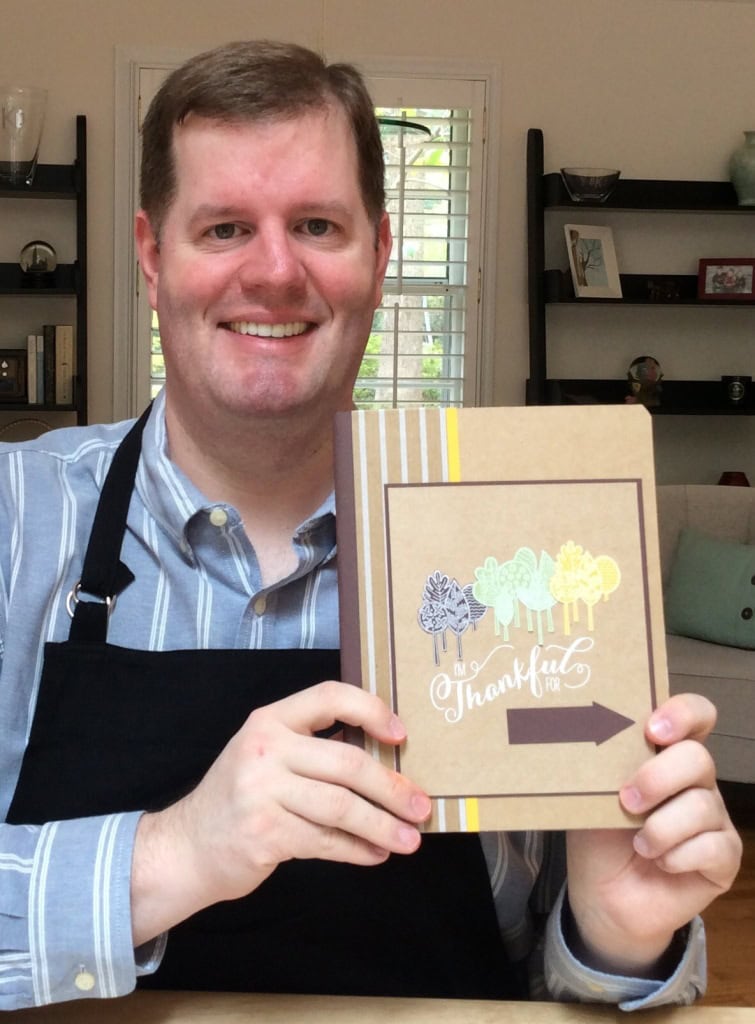 Thanks for stopping by today! I hope you've enjoyed this journal cover idea.
Brian