The Global Design Project is hosting a nautical-themed challenge this week. When I think of making a card that features the beach and ocean, I think of two types of cards – one is a vibrant, fun card with bright colors and sea life and one is a peaceful showcase of the beach's serenity. I made both – but am only sharing one with you today. Here's a sympathy card that features sea shells from Seaside Shore and a sentiment from Thoughtful Branches (available tomorrow):
Don't you agree that these colors and images really capture the serenity of the beach? With some just a couple of stamps, some ink and paper, I was happy to create the feeling I was going for.
Here's the banner for the challenge that inspired my card:
Tips, Tricks and Reminders
Seaside Shore. The stamps I used the create the smattering of shells (there are two different sizes of the same shell) are from Seaside Shore. While the set is filled to the brim with fun images and cartoon-like fish, there are some images in the set that are actually really beautiful (or can be used to make beautiful cards). The sea shells and sea stars are quite lovely (although tiny), and the anchor and the sea weed have a simple sophistication to it, too. If you passed by this set because you thought it was cartoon-ish, maybe take another look? 🙂
Graduated Shells. The shells create a soft burst from the center of the circle that the sentiment ultimately covers. I decided where I wanted the circle to be featured and drew a little dot on the Very Vanilla cardstock. I created this graduated specking of shells by stamping off first and the stamping out from the center of the circle in repeated fashion. This was definitely a "squint" moment – where is it balanced? What area needs more? The larger shells were stamped in Crumb Cake, while the smaller shells wee stamped in Soft Suede. Beneath the circle is an ugly area that almost solid brown.
A Neutral Landscape. There's nothing more peaceful than a soft, neutral background. Soft Suede, Crumb Cake and Very Vanilla provide this "you're in my thoughts" card with a calm, serene backdrop. If you are inspired by this color combination, feel free to save this:
Stamp Sets: Seaside Shore, Thoughtful Branches Papers: Soft Suede, Crumb Cake, Very Vanilla Inks: Soft Suede, Crumb Cake Accessories: Layering Circle Framelits, Stampin' Dimensionals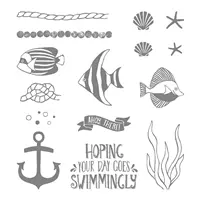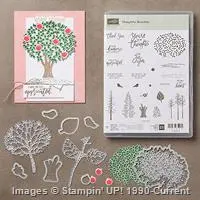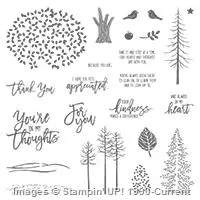 I hope you'll pop over to the Global Design Project site to see the cards by the design team members and to play along with this week's challenge.
Thanks for stopping by today!
Brian
---