My entire weekend was filled with stamping (sun up to sun down on both Saturday and Sunday), yet I am JUST getting around to creating my Pals Paper Arts Card Sketch Challenge. What in the world has gotten into me? The sketch for this challenge, designed by Margaret Moody, was posted on Thursday. I'm five days late, but I'm ready to share the answer, followed by Margaret's riddle.
Here's my clean and simple card: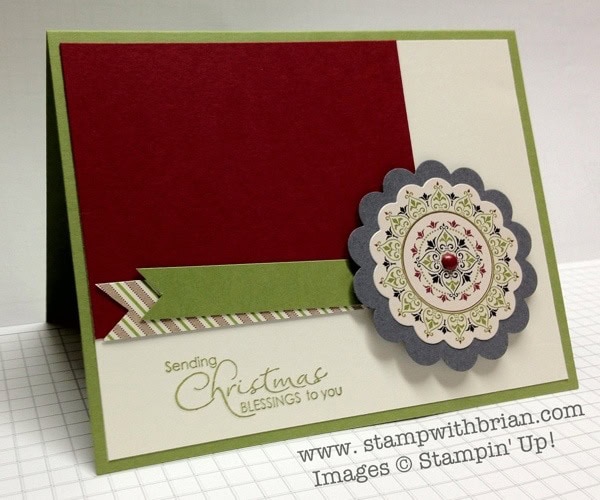 and here's the sketch that inspired my design:

Tips, Tricks and Reminders:
Doubling up on the scallops.  Don't recognize the scallop shape on my card? At Regionals, we attendees received a Merry Moments Simply Scrappin' Kit.  I don't think I would have ever chosen to purchase this kit, but I have to admit that I really love it.  The kit contains 12″x12″ card stock, DSP and sheets of stickers.  The scallop is a sticker that transfers easily to any project. I knew I wanted to layer the sticker on a larger gray scallop, but I also knew I could never get it lined up perfectly, so I attached the sticker to a piece of Basic Gray Cardstock and then punched the larger scallop:


Risist the urge. Despite my tendency toward clean and simple, I really, really, really wanted to add texture or images to the Cherry Cobbler block on the top, left corner of this card. With great discipline, I resisted the urge, and I'm really happy for it. By leaving the Cherry Cobbler alone, I allow the pattern on the scallop and the banner to take center stage. They are beautiful, and they deserve the attention.  In person, you can see the natural texture of the Cherry Cobbler Card stock, but it doesn't detract from the scallop and banner.
Check out the other designs for this sketch here and play along by submitting your own card inspired by this sketch.
Stamp sets:  Christmas Blessings  Papers:  Old Olive, Cherry Cobbler, Very Vanilla, Festival of Prints Desiger Series Paper Stack, Merry Moments Simply Scrappin' Kit  Inks:  Old Olive  Accessories:  3/16″ Regals Brads, 2-3/8″ Scallop Circle punch
Thanks for stopping by my blog today!
The stampwithbrian.com One-for-one Card Swap.  Don't forget to join in on the fun!  The stampwithbrian.com One-for-One Swap is under way.  Send your card today to receive one tomorrow (well, not really tomorrow, but soon).  For more information, click here.  All your friends are doing it!